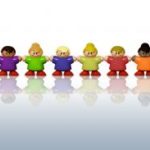 This post is part of a synchroblog started by Glenn Hager. Take a look there for more posts on the topic of community and what it means to all the participants.
Community is one of the new buzz words in Christianity today. It seems like every other new church starting is 'community church' but this isn't something that can develop by simply attaching the name to a building, or by following a program; community is something deeper than that. As Alan Knox points out in his post for this synchroblog it isn't our normal method of operation, at least not in America, it seems to counter the rugged individualism that we value as Americans.
Strangely enough I find myself often more in community with people who are not part of my church family than with those who are. We tend to, as a church, get together for fellowship every week but I don't see them much in between. We have joked, in fact, that we see each other less now that we participate in our house church together than we did before.
Building a community or covenant family takes more than simply calling what you do community. It will take a complete change in the way we think about church and our lives. It will take giving up our privacy, pride, time, tears, and all the masks we wear, in this area I still believe the church has a great deal to learn from AA. We have been trained in the church to always keep up appearances; we don't want to burden others with our trouble. But that is what being a family is all about, bearing one another's burdens and many other things that we shy away from.
Just take a look in the Bible for the phrase "one another" and see what you find. Here is my list:
Jn 13:35 By this all men will know that you are my disciples, if you love one another.
Ro 14:13 Therefore let us stop passing judgment on one another. Instead, make up your mind not to put any stumbling block or obstacle in your brother's way.
Ro 15:7 Accept one another, then, just as Christ accepted you, in order to bring praise to God.
Ro 15:14 I myself am convinced, my brothers, that you yourselves are full of goodness, complete in knowledge and competent to instruct one another.
1Co 1:10 I appeal to you, brothers, in the name of our Lord Jesus Christ, that all of you agree with one another so that there may be no divisions among you and that you may be perfectly united in mind and thought.
Gal 5:13 You, my brothers, were called to be free. But do not use your freedom to indulge the sinful nature; rather, serve one another in love.
Eph 4:2 Be completely humble and gentle; be patient, bearing with one another in love.
Eph 4:32 Be kind and compassionate to one another, forgiving each other, just as in Christ God forgave you.
Eph 5:19 Speak to one another with psalms, hymns and spiritual songs. Sing and make music in your heart to the Lord,
Eph 5:21 Submit to one another out of reverence for Christ.
Col 3:13 Bear with each other and forgive whatever grievances you may have against one another. Forgive as the Lord forgave you.
Col 3:16 Let the word of Christ dwell in you richly as you teach and admonish one another with all wisdom, and as you sing psalms, hymns and spiritual songs with gratitude in your hearts to God.
1Th 5:11 Therefore encourage one another and build each other up, just as in fact you are doing.
Heb 10:24 And let us consider how we may spur one another on toward love and good deeds.
1Pe 3:8 Finally, all of you, live in harmony with one another; be sympathetic, love as brothers, be compassionate and humble.
1Pe 4:9 Offer hospitality to one another without grumbling.
1Pe 5:5 Young men, in the same way be submissive to those who are older. All of you, clothe yourselves with humility toward one another, because, "God opposes the proud but gives grace to the humble."
All of these things help to build community but for the most part we are only capable of doing these things through submitting ourselves to Christ and allowing him to change our nature through his gospel.
We have begun down the road of community and I hope we continue no matter how hard the road is to travel, I believe the destination will be worth it.
Other Participants in the Synchroblog
Alan @ The Assembling of the Church: Community Is Unnatural Today
Jason @ Godfidence.org: Community: A Synchroblog
Jeff @ Loosing My Religion: Thoughts On Building Authentic Christian Community
Jonathan @ Missio Dei: Why We Don't Like Grace