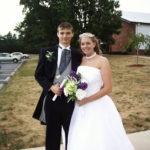 This past weekend Heather and I spent the weekend in WV celebrating our six year anniversary. Normally, we have quite an adventure like last year, or our trip up a dirt road that almost got my car to bottom out so we could visit the "Family Fun Center", or the moonlight canoe ride during a new moon. Let me tell you there is nothing romantic about a pitch black canoe ride, topped off with wine served out of a 10 gallon igloo cooler. I wish I was kidding.
This year was no different, we didn't plan anything big but we did book an evening on a dinner train out of Elkins WV. We didn't know anyone who had done it before and we weren't sure what to expect especially with our track record. We boarded the train and were directed to one of the last three cars. We walked into a car that we prayed was not the fine dining car we had been promised. It was something out of a small town diner, complete with plastic table cloths. But, all in all it was actually a very good time.
Heather and I have been happily married now for six years and it has been great.